Workshop in St. Petersburg – news from ISSS's Eastern Europe rep.
On June 18th an International Workshop entitled 'From Seed to Seed' was jointly organized by St. Petersburg University, the N.I. Vavilov Research Institute of Plant Industry, and the Society of Russian Plant Physiologists.
It was held at the Vavilov Research Institute in St. Petersburg , with Dr. Galina Smolikova, an ISSS member, as the main organizer.
After an opening greeting by the Vice-President of the Russian Society of Plant Physiologists, Prof. Sergei Medvedev, the Director General of the Vavilov Research Institute of Plant Industry, Dr. Nikolay Dzyubenko, presented a detailed account of the life history and importance of the work of Nikolai I. Vavilov, a botanist and geneticist internationally-recognized for identifying the centers of origin of cultivated plants, and for whom the current in situ (Vavilov) Centers of Genetic Diversity are named.
The opening talk, on the switch from development of germination of seeds from wet and dry fruits, was presented by Prof. Derek Bewley , University of Guelph, followed by talks by Prof. Natalie Obrucheva of the K.A. Timiryazev Institute of Plant Physiology, Russian Academy of Sciences, Moscow, on aquaporins in germinating seeds, and then by her colleague Prof. Marina Azarkovich on the metabolism of recalcitrant horse chestnut seeds.
The first speaker of the afternoon, Prof. Elwira Sliwinska, University of Life Sciences and Technology, Bydgoszcz, Poland detailed the importance of flow cytometry and confocal microscopy in seed science and production. Prof. Sliwinska, as ISSS Regional Representative for Eastern Europe and Russia, also brought the ISSS to the attention of the audience and encouraged them to become members. Talks by Dr. Tatjana Veselova, Moscow State University on deterioration mechanisms during early seed aging, and by Dr. Galina Smolikova from Saint-Petersburg State University on the function of chlorophyll in seeds rounded out the session.
During the morning coffee break, a visit was arranged to the Museum of N. I. Vavilov, which contains his original office and workspace in which there is an exhibit of his books, diaries, notes, maps and many photographs of him and his colleagues. A unique and moving experience.
Following the afternoon session there was a tour of the Genebank of the Vavilov Research Institute in a nearby building, to see the numerous seed accessions stored at low temperatures, over liquid nitrogen, as well as accessions of cuttings from trees maintained in culture.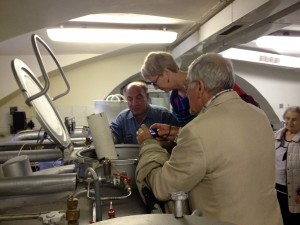 On following day Professors Bewley and Sliwinska were introduced to the seed research programme and facilities of Saint-Petersburg State University, including a very impressive, newly-established, Research Resource Center for Molecular and Cell Technologies, equipped with a variety of modern light/fluorescence and electron microscopes, flow cytometer/sorter, mass spectrometers, as well as other state-of-the-art machinery (biomed.spbu.ru/en/). The possibilities of establishing closer cooperation between Russian and Polish colleagues were discussed.
Professors Bewley and Sliwinska accepted an invitation by Profs. Azarkovich and Obrucheva (ISSS members) to present seminars and tour the facilities of the K.A. Timiryazev Institute of Plant Physiology, Russian Academy of Sciences, in Moscow. During Prof. Sliwinska's seminar on June 25 ISSS activities were again discussed.
Contact:  Elwira Sliwinska